May 5, 2016
Think outside the "vase" this Mother's Day
As we all know, flowers are a fantastic way to celebrate moms of all ages.  I don't know of one mom who doesn't love to be showered with some extra love and recognition on Mother's Day.  But instead of just sending some standard flowers in the same old vase, we thought we'd kick it up a notch and show some examples of ways to send California grown flowers in vessels and containers that when delivered are a more thoughtful and personal way to honor all the hard-working moms out there!
Our idea all started with my grandmother's milk vase (seen below).  I was thinking of her one day when I saw her vase in our closet, and I decided to deck it out with some gorgeous blooms.  It made me happy all week and when my mom came over for dinner that Sunday, she instantly recognized it and we had a great time reminiscing about our favorite memories of grandma.
So I decided to carry that idea through and found some other unique and personal ways to honor moms below.  One of my staff's favorite ideas was using a cowboy hat as a centerpiece for the Mother's Day Brunch.
We grabbed this cute pink cowboy hat from one of the daughters of a fellow team member and went to town.
Scissors and clippers
Plastic to protect the inside of the hat
Cowboy hat or vessel of your choosing
Floral foam
California grown flowers of course! For this project, we used Lily's, Baby's Breath, and Snapdragons.  Feel free to choose any flowers of your choosing that you think fits with your theme.
Step One
Line the hat with plastic sheeting or other barrier material to protect the inside of the hat and place of piece of wet floral foam inside.  Cut the plastic to size so that it doesn't show.
Step Two
Cut and add the Lily's.

Repeat the same process with the Baby's Breath.  This is great filler and will hide any gaps you might have.

Enjoy your custom centerpiece.  Perfect for the mom who loves anything country.
Of course this is just the beginning…..
If your little one needs to send flowers to grandma, there is no greater way for them to get involved by recycling a tin can and covering it with Kraft paper that was personalized with their artwork.  Let them even arrange the flowers how they'd like.
Sometimes moms just appreciate clean lines and simplicity of gorgeous mass of anemones in a glass pitcher. This is perfect as a décor piece on the buffet table or near the kitchen sink.  What a beautiful view.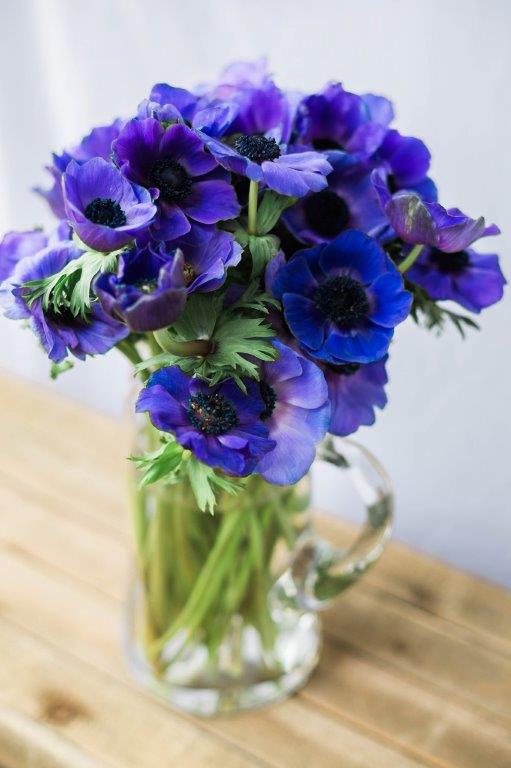 For the more modern mom, think BIG! Really BIG! By bringing a stunning vase to your florist that is tall in height it will surely create a lasting impact.
Of course there is something to be said for good things that come in small packages.  We love this little cube that we found hiding on one of our shelves.  One team member event brought a cute little mason jar that we filled with sweet blooms.
Your florist will gladly help you pick out something that your mom or grandma will surely love and they will be happy to assist with any container that you want to use, so don't settle for the same old thing.  Florists really are artists and they love to create new and different floral designs.  Just be sure to ask for California grown flowers during this holiday. You'll know you are getting the freshest product available that will have a much longer shelf life.
Happy Mother's Day Y'all!  As always share your creations using California blooms by tagging us at #CSFA.
Love. Flowers. Always.