September 16, 2016
A Q & A Session with Kay Wolff AIFD, CCF
Kay Wolff AIFD, CCF of Kay Wolff Design is an extremely talented floral designer from Berkeley, California who graciously gave us some of her time to chat about the wedding and event business. She is well known for her artistic vision and commitment to using California grown flowers. We are sure that her "pearls of wisdom" will ring true with all of you fellow designers out there and hopefully inspire all of you to keep moving forward.
When and why was Kay Wolff Design established?  How did you get started?
Kay Wolff Design began as Making Arrangements Floral Design in 1988. A rebranding effort began in 2012 due to the responses of younger clientele. It also better defined the breadth of my business activities.
Initially I started in the floral design business by taking classes at San Francisco City College in the Retail Floristry program. I then apprenticed at a local retail flower shop and eventually moved on and started my own small business while raising two young children.
What is a website or tool you recommend for professional florists?  Website or tool for couples getting married?
Beyond having a business website there are numerous websites for floral professionals. Determining your target market may influence which websites are best for your business. For Kay Wolff Design they are The Knot, Here Comes the Guide, and Wedding Wire.
For couples planning a wedding the possibilities are as endless as the needs the couple may have in planning assistance. The Knot and Wedding Wire have guides along with their resource listings.
Additionally, Pinterest is a boundless resource for visual idea gathering. This can be a time consuming way for a designer to 'get to know' a client and the designer may charge for a Pinterest review. Additionally, an event planner or day of coordinator can and will save your sanity; and may save you money in the long term.
How would you describe your design style? Business philosophy?
My design style is contemporary with line influences from Sogetsu Ikebana. I love color and color play is a great strength that emerges in my designs.
I believe everyone deserves beautiful flowers for their life occasions. My request and requirement of my clients is that they are realistic with what they want vs. what is attainable with their budget needs. This is one area where collaboration is a useful tool. And yes, I sweat the small stuff!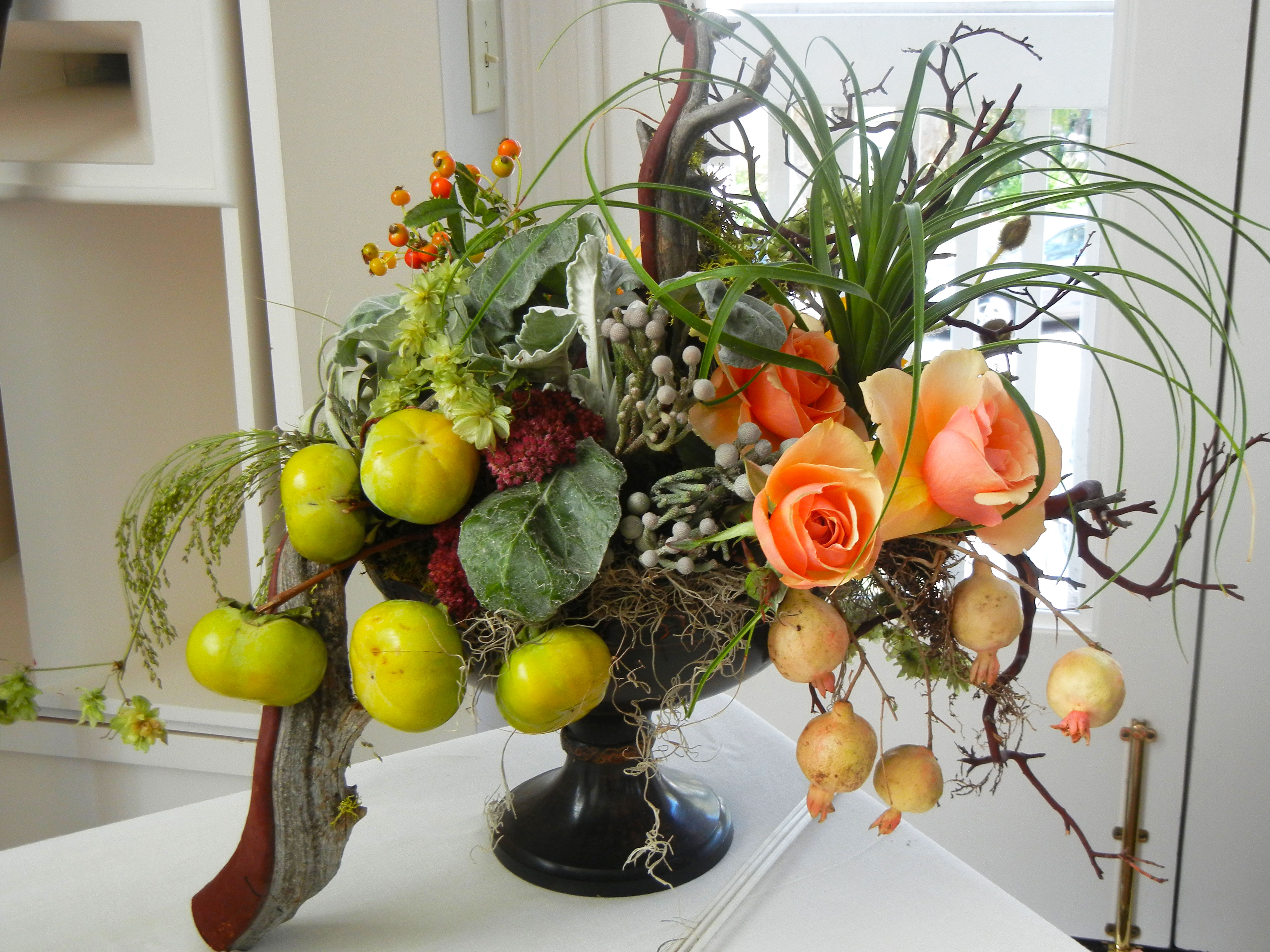 Do you have a staff?  How many?  Full time/part time?
Additional staffing is hired by contract for particular events.
What bridal trend are you enjoying at the moment?
I'm really enjoying the return to arrangements that feature foliages and flowers in luscious combinations.
What bridal trend would you like to see disappear?
The small bottle collections and mason jars.
What is your advice to new florists breaking into the wedding market?
Work with an established floral designer for two or three seasons. This will provide a wonderful learning experience. You'll have an opportunity to see a variety of venues, and it will help you know how to think on your feet when flexibility in the moment is required.
What is your opinion regarding social media? Which platforms do you participate in if any, and why?
Social media is a necessary communication with the wedding couple today. Learning how to use the various platforms is important. Using them differently is also important. If a couple sees the same posts on your Facebook feed as they see on your Pinterest it is not helpful.
Kay Wolff Design has a presence on Facebook and Pinterest. Keeping up with social media is time consuming. These two have been selected because of the relative ease in using them.
How do California grown flowers fit into your business?
When consulting with a couple, I help them make decisions about choosing seasonal and locally grown flowers and greenery whenever possible. Helping consumers to understand the beauty and value of seasonal availability is important to me. Expressing my preference in using California grown products in my designs shows my clients my knowledge regarding the industry here all the while creating awareness.
Why do you feel it's important to source locally?
The California flower farmers and ranchers are in this industry with us, in a way we're partners. They value us as designers and florists. They understand that we are their interface with the flower consuming public. We have an opportunity to showcase the beauty they produce. Proximity to the fields – freshness, reducing the carbon footprint, and supporting the industries of our state are all important to me.
What are your favorite growers/suppliers and why?
Neve Brothers– I love them for their standard and spray roses. The flowers are farm picked and their knowledgeable staff lets me query them about how the flower opens and the overall bloom fullness.
Lassen Ranch- They are known to grow a few specific seasonal crops really well.
Figone Nursery– Their seasonal flowers are of great quality. I like to get Dahlias, Thimbleberry, and various greens.
Delano Nursery– They have very good plants and I like to use Pacific Coast Evergreen for garlands.
Torchio Nursery– They're great for a broad selection of fresh local cut flowers and botanicals.
Brannan Street Wholesale– They are also great for greens and branch selection.
I use Santa Clarita Flowers for a connection to flower producers in Southern California.
What has been your most memorable event?
Wow, that is difficult to decide…when a bride or groom says "This is more beautiful than I could have even imagined!" or "You captured my dream." I feel like I have succeeded. Listening to the desires of their heart and making that a three dimensional reality is both a pleasure and privilege. There have been grand affairs and simple ceremonies. Whatever the event, when I can stand back and say "Amazing" is when I find a most delightful and exhausted sense of pure joy and satisfaction.
If a florist makes a mistake at an event what would your advice to them be?
We all make mistakes at times and owning the error or oversight works best in my experience. If the mistake happens the day of the event, try to make an effort and correct the situation as soon as possible. It really depends on the mistake or error to determine if an apology after the wedding is sufficient or whether a financial remuneration is in order. I've found that being genuine and honest are received a lot better than if you make excuses. Being able to communicate what went wrong and why always helps as well.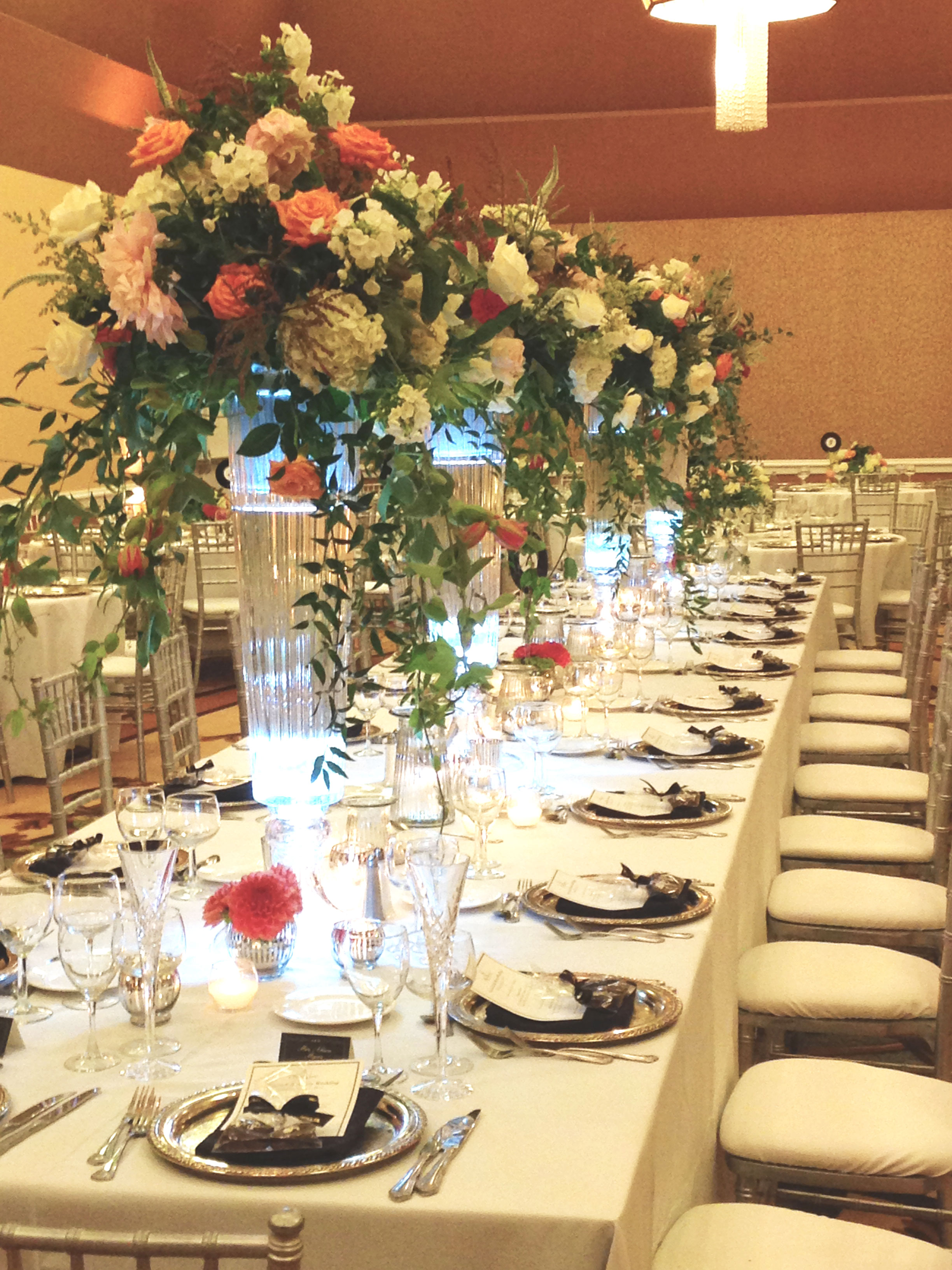 Thank you to Kay Wolff for taking the time to answer our questions. To reach Kay Wolff Design you can email her at kay@kaywolffdesign.com or give her a call at (510) 540-1931.
Love. Flowers. Always.